Shop details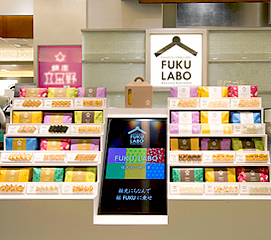 FUKU-LABO (fukurabo)
Shibuya mark city B1F Toyoko Noren Street
Store business hours: From 10:00 to 21:00
Experiment studio of rice granary Toyama, Fukumitsu. We lift up local "new Taisho glutinous rice" and bake and we will have Okaki of mouthful size and send.
Recommended product
We nominate Fukumitsu (soy sauce)
(28 g)…540 yen
We lifted up high quality rice oil desakkurito and, using new Taisho glutinous rice from Toyama, let soy sauce sause pass immediately. It is our restaurant first popular item.